The BONUS PACK for Building Music Careers
Create your plan - End confusion - Start today
All Music Careers Need Breakthrough Tools
For a limited time, these tools are available with Musician Ignition
This Bonus Pack stacks
5 Powerful Tools
because Music Careers don't happen by luck!
Musician Ignition: How To Create Blueprints For A Successful Music Career

Want to know what all Successful Music Careers have in common?

Stopped wishing, hoping and waiting and instead got busy with smart, practical strategies.
Worked with what was available and became their musical best.

Quit blaming and started owning their musical real estate.
Successful music careers don't magically happen – they are built like any other successful career, one step at a time.
When you are ready to turn your dream into an action plan, Musician Ignition is for you.
BOTH FORMATS are included:
PDF – $17.00

ePUB – $21.00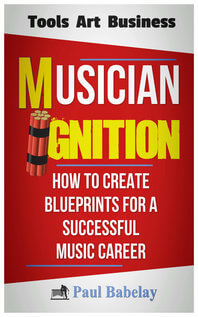 The Musicpreneur Toolkit

The Musicpreneur Toolkit is for the savvy Musicpreneur that needs a comprehensive database of software, websites and organizations to make your job easier.

These are the tools for hacking the tasks all music careers navigate: From Music lessons and music theory to building a Home Recording studio,  Graphic Design and Gigs, Promotion, Marketing and more!
** I accept no money from ANY of these companies. If it's listed here, it's as good as it gets.
Save so much time, energy and money when you have the best music career tools all in one resource.
ONLY AVAILABLE NOW in the BONUS PACK!

These are my Suggestions RULES For Music Success

This collection of 20 Rules For Music Success will help you avoid some potholes and fully enjoy the benefits that only music careers offer. These lessons all come from first-hand trials and joys that will help you launch and progress with passion and confidence.
Learning to juggle music careers and your personal life is a life-long process. If you're not happy and satisfied as an individual first – no amount of music success can compensate. Who says you can't have both?
Making important Decisions
Defining the most important Goals
Defining career Success
Overcoming Fears
Finding your unique Voice

Unlike "real jobs", music careers have no regulations and rules – or do they?
ONLY AVAILABLE in the BONUS PACK!
Are you making these Music Career Mistakes?

You might think these mistakes are obvious. But the truth is, they must not be. Musicians keep making them over and over. This powerful teaching tool, 10 Music Career Mistakes And How To Avoid Them can change that – forever.
Too many musicians, newbie to pro, make these needless mistakes. Music careers are difficult enough to build. Don't make it any harder by making deadly mistakes.
Learn from me and countless others. You can avoid them – if you recognize them. And the great thing is that even if you feel like you've screwed up horribly, music careers can be salvaged. Your mistakes can become key learning points that propel you forward in the right direction.
This includes a 43 audio file/mp3.
ONLY AVAILABLE in the BONUS PACK!
Are you sure you know How to Practice Music?

Of course you know how to get to Carnegie Hall… bad joke, I know.
But with musician jokes, there is usually some truth involved. Learning how to practice effectively is no joke. Actually, it could be the most important skill a musician can learn.
How To Practice Music: 7 Steps To Great Results will help you master your practice time. You can learn to get more done in 30 minutes than noodling around for 3 hours with these seven steps.
My 7 steps will help you build an effective practice plan around your needs and goals.
Don't waste another minute stuck on licks and riffs you already know. There are too many music careers stalled in the comfort zone of "Watch This…" Instead, count it in and make it count. Carnegie Hall awaits!
ONLY AVAILABLE HERE!
Secure access to the Music careers BONUS PACK. Do it now and take $74.00 off the suggested retail price.
After our introductory offer ENDS, we will shut this offer down and remove the low price tag.
No matter what you want to do with music, all music careers need breakthrough tools, concepts and vision to succeed.
And don't forget, you can TRY IT OUT with NO FINANCIAL RISK.
"Am I INSANE to bundle

SO MUCH

for

SO LITTLE MONEY

?….."
Maybe…
But I don't want any emerging musician to feel like they don't have what they need to succeed.
Plus, if you aren't 100% satisfied, I offer the best money-back guarantee you've ever seen!
No Risk. Nothing to Lose. Everything to Gain.
What are you waiting for?
No hassle. No problem. No risk.
The Best Money-Back Guarantee Ever

If, at any time during the first 60 days, you are not 100% satisfied with Musician Ignition, and/or the Bonus Pack, I will return your money – No Questions Asked!

AND YOU KEEP THE BOOK AND BONUS MATERIAL ANYWAY!
60 Day, 100% Rock Solid Guarantee
Breakthrough music tools for Successful Music Careers!